Happy Release Day to Marrow by Tarryn Fisher! I am so excited to be sharing the release of this book!! I feel like I've been waiting for it FOREVER!! You know what? I have been waiting for this forever! 
❀B

uy The Book❀

 
Amazon | Barnes & Noble | Smashwords
In the Bone there is a house.
In the house there is a girl.
In the girl there is a darkness.
Margo is not like other girls. She lives in a derelict neighborhood called the Bone, in a cursed house, with her cursed mother, who hasn't spoken to her in over two years. She lives her days feeling invisible. It's not until she develops a friendship with her wheelchair-bound neighbor, Judah Grant, that things begin to change. When neighborhood girl, seven-year-old Nevaeh Anthony, goes missing, Judah sets out to help Margo uncover what happened to her.
What Margo finds changes her, and with a new perspective on life, she's determined to find evil and punish it–targeting rapists and child molesters, one by one.
But hunting evil is dangerous, and Margo risks losing everything, including her own soul.
❀
Page 1 Excerpt
The pearl starts its life as a splinter—something unwanted like a piece of shell or shard of dirt that accidentally lodges itself in an oyster's body. To ease the splinter, the oyster takes defensive action, secreting a smooth, hard, lucid substance around the irritant to protect itself. That substance is called "nacre." So long as the splinter remains within its body, the oyster will continue to coat it in nacre, layer upon beautiful layer. I always thought it was remarkable that the oyster coats its enemy not only in something beautiful, but a part of itself. And while diamonds are embraced with warm excitement, regarded to be of highest, deepest value, the pearl is somewhat overlooked. Its humble beginnings are that of a parasite, growing in something that is alive, draining its host of beauty. It's clever—the plight of the splinter. A sort of rags to riches story.
 ❀
About Tarryn Fisher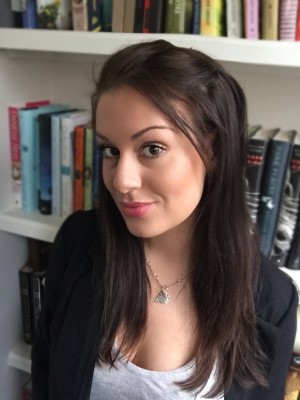 Tarryn Fisher is the New York Times and USA Today Bestselling Author of six novels. Her newest novel, Marrow, just released in April 2015 and she is currently working on the second installment of Never Never. She is the co-founder of Clothed Caption, a fashion blog she runs with her friend, Madison Seidler. Tarryn resides in the Seattle area with her family. She loves rainy days, Coke, and thinks Instagram is the new Facebook. Tarryn is represented by Amy Tannenbaum of the Jane Rotrosen Agency.
Facebook | Twitter | Website | Instagram | Goodreads
❀
Related Posts