There are a lot of books released weekly. Hell, there are a lot of books released daily, so picking your next read can seem a bit, well…
So, sometimes, you just have to look at your shelves (actual or digital) to choose one of the hundreds (you know you have close to that many– don't lie) you have for your next read.
It's a beautiful thing actually, once you get over the anxiety and frustration and anger at yourself for being so damn weak and spending so much damn money on books you haven't read. No? Is that just me? Well, that's another post.
Last week, I experienced this crisis of choice. What do I read next? 
I showed the greatest of strength when I resisted the urge to by one of those thousands of new releases I mentioned earlier…
…and I picked up a book I've had for a while. Okay, I've had it for years and years– hidden on my Kindle and also recently on my bookshelf, gifted to me by a generous soul (thanks, Kristy!). It's called On the Island, and apparently it's a book that nearly EVERY SINGLE ONE OF MY BOOK FRIENDS READ AND LOVED AND FAILED TO TELL ME ABOUT. Damn them.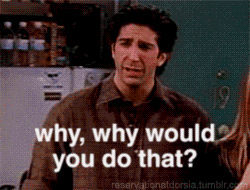 Okay, a couple friends did urge me to read it, and I ignored them, but that's beside the point.
I started reading On the Island and I just knew, I knew that it was going to be goooood. And it was better that good. I can't even describe how much I loved that book, so I'm not even going to try. Just know that I read it in a day, reread it the next day, and I've been dreaming about it, rereading snippets, and generally obsessing about it for the past week. It's everything I love about books: romantic, emotional, thrilling, sexy, a great escape. And though I read it and loved it, now I'm mad I read it because now I know my future doesn't hold the possibility of reading that gem for the first time. Damn this dilemma. Damned if you read it, damned if you don't.
Well, I'm not going to obsess over that. I'm going to redirect my obsession. Now I'm on a mission to find my next On the Island. Or…*whispers* my next Puddle Jumping.
Fine! I'll admit another secret shame since I'm sure some friends are reading this and they know that I'm a chronic late-to-the-game reader, especially regarding indie reads. Before On the Island it was Puddle Jumping (that was a beautiful story), and before Puddle Jumping it was On Dublin Street (damn, that book was brilliant), and before On Dublin Street it was The Innocence Trilogy, and before that it was Bully. All I had for way too long before I read them. So yeah, I've been questioning my life choices lately.
And, I've been looking at my Kindle and my shelves. Unfortunately, I have no self control and poor decision making skills, so I'm going to trust my friends and leave the book decision making skills up to them. At least, leave the decision making regarding my overdue reads up to them, and you. I want to experience wonder, I want to experience joy, and love, and heartache, and adventure. So, pick my next reads, please! I only have a few upcoming releases that I'm interested it, so I've decided to attack my shelves for unread books with the hope that a few of these will rock my world.
Here are my hard copies. I'm pretty sure I know which one you'll say to read first, but I wanna see if you'll surprise me. 😏
Here are some Kindle books that my friends may or may not have recommended before.
I don't usually read by order or any kind of schedule, but I'm pretty sure these are all good, and I'll love them each for one reason or another, so I don't mind having a plan of attack for these. What I need from you, so that I don't end up curled in a ball, wailing from frustration, is a guide to clear these off my shelves. Will you pick five of these that you think I should get to ASAP?
So, help a girl out. Help me find my next obsessions.
***Giveaway incentive: for being gems and making my life a little bit easier, I'll gift a $10 gift card to one commenter. I'll close the giveaway in one week when I start tackling these piles.***
Related Posts